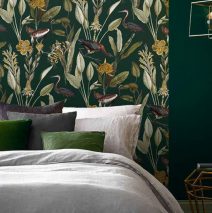 A green bedroom is the perfect way to create a tranquil, stylish retreat in your home. Whether you want to go for a bold statement with vivid walls or opt for something more subtle with accent pieces, there are plenty of ways to incorporate this peaceful hue into your space. Keep reading for our top tips on designing a gorgeous green bedroom that will make you feel calm and serene in no time. Trust us, your zen self will thank you!
Dreamy green bedrooms that will make you want to paint your walls
Green is a beautiful and calming color, perfect for the bedroom. Whether you're looking to create an oasis of relaxation or bring some natural vibes into your space, these dreamy green bedroom design ideas will prepare you to pick up a paintbrush!
Start by painting your walls in shades of green, from light celery to dark olive. Use different tones and textures on either side of the room — textured wallpaper on one wall and flat paint on the other — for added dimension. To add visual interest, hang pictures with teal and sage accents that will blend seamlessly with the green hues. You could also bring in statement pieces like a bed frame or nightstands painted in shades of emerald or forest green.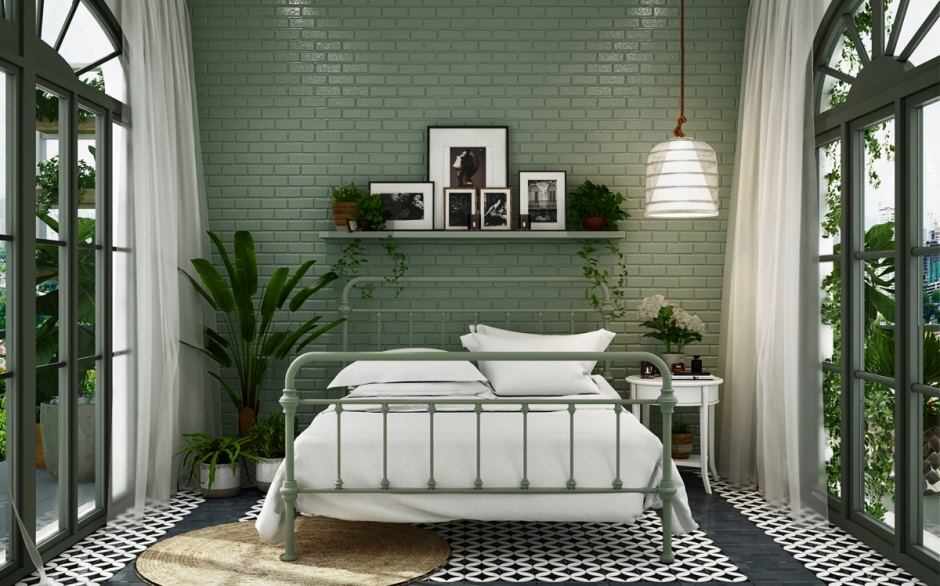 Choose bedding and curtains in muted tones of sage or forest green for a subtler take on the hue. Add metallic accents like brass lamps and gold fixtures that will stand out against the softer greens to bring a hint of glamour to your space. You could also mix in pieces with light woods like birch and oak for an airy feel.
Finally, complete your dreamy green bedroom by adding greenery with houseplants like ferns, palms, and snake plants that will thrive in filtered light. Don't forget some cozy throw pillows and blankets to make you feel right at home! With these ideas, you'll be all set to transform your bedroom into a green retreat.
Ways to incorporate green into your bedroom design
Choose Furniture with Sustainable Materials: Look for furniture pieces made from sustainably harvested wood, like bamboo and reclaimed wood. Opt for natural materials such as cork, rattan or jute instead of synthetic fibers like polyester and vinyl.
Add Greenery: Incorporate plants into your bedroom design to create a calming atmosphere. Place potted plants around the room to bring in some nature vibes.
Use Natural Light: Make use of natural light by installing window treatments that let it in while still providing privacy during the day. This will reduce energy consumption while creating a brighter ambience in your bedroom.
Invest in Eco-friendly Bedding: Buy bedding materials made from sustainable fibers like organic cotton, bamboo or hemp. These materials are incredibly comfortable and will last you a long time.
Shop Second-Hand: Look for furniture and accessories at thrift stores or antique markets to reduce your environmental footprint while adding character to your bedroom design.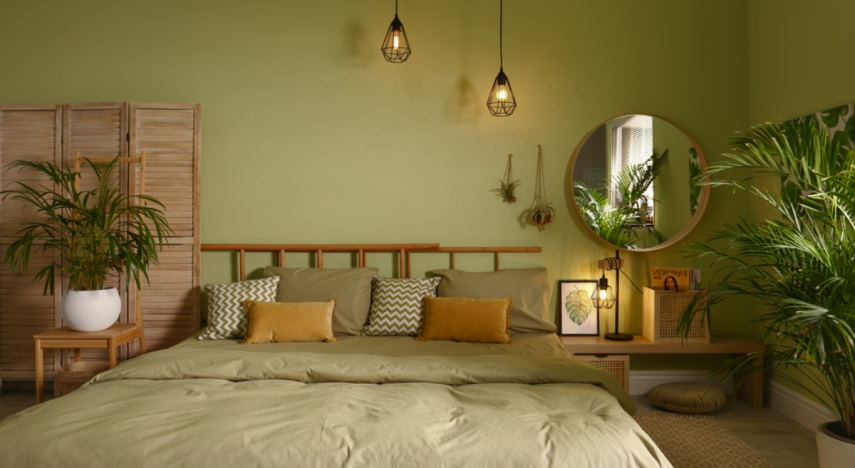 Swap Out Old Lightbulbs: Replace old incandescent bulbs with energy-efficient LED bulbs to save energy and money in the long run and help reduce pollutants released into the air.
Reduce Clutter: Cut down on clutter by organizing items in bins and boxes, so they don't take up too much visual space. This looks better and is more eco-friendly since you're not buying new items to store your stuff.
Choose Low-VOC Paints: When painting the walls of your bedroom, opt for low-VOC paints that emit fewer pollutants into the air and are generally better for your health.
Incorporate Recycled Materials: Look for furniture pieces or decorations made from recycled materials, such as glass bottles or plastic bags, to add more green elements to your bedroom design.
Use Natural Flooring: Consider using natural flooring like cork, bamboo or wool carpets instead of synthetic materials like vinyl or polyester to create a more eco-friendly atmosphere in your bedroom.